Our QT Fabrics team extends beyond our employee-owners. We work with creative and dedicated artists to expand our in-house studio talent. We are committed to providing an array of collections suited to many different styles. Collaboration is the QT Fabrics way!
BROWSE DESIGNERS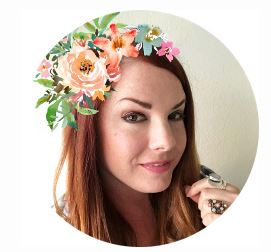 BARBARIAN Barbra Ignatiev
I believe that color has a big impact on your outlook. Through my art, I aim to inspire you to reach bigger, be bolder — and also have fun in the process.
Wisconsin grown, I'm based in Oakland, California with my surfer husband, Mike, and my sweetheart cat, Foo.
A lifelong learner, I use my art to express new ways of thinking — hoping to make the world a better place.
I love dancing to Afrobeats, singing in harmony, and eating mushroom stroganoff. I've also been honored to work with Anthropologie on an exclusive collection, a dream come true. (Weird segue, but whatevs. It's all true.)
I started painting with just $10 in art supplies – and 30 minutes a day. To date, I've made over 800 designs, adding new designs every freakin' week!
A daily dancer, I paint in a carefree style, hoping to evoke the motto which is true in my life and I hope to instill in others: "Progress, not perfection." My brand, BARBARIAN, encapsulates adventure and benevolent vibes. I work in watercolor, creating unique prints and patterns for an array of items that bring happiness to homes and bodies worldwide.
From throw pillows to leggings, my prints make a statement for wild-at-heart people wanting more positive excitement in their lives.
Being a lover of nature, I am dedicated to working with responsible manufacturers that make high-quality, ethically-made products. If you are an established manufacturer that shares my same love of the Earth and want to work together, jump over here – I'd love to hear from you!
Before building BARBARIAN, I worked at many design studios in the party, craft, and fashion industries. I have over 15 years experience in the product design field.
I LOVE making prints and my desire is to cover the world in inspiring print. I'm not sure when I've reached my goal but if Beyoncé has donned my prints…oh HOLLA I will feel co
COLLECTIONS BY THIS DESIGNER