Our QT Fabrics team extends beyond our employee-owners. We work with creative and dedicated artists to expand our in-house studio talent. We are committed to providing an array of collections suited to many different styles. Collaboration is the QT Fabrics way!
BROWSE DESIGNERS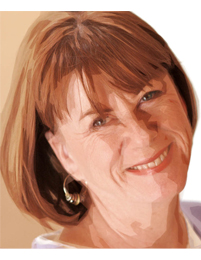 Laurie Cook

Laurie Cook spends her lucky days in her studio on a dusty hillside in southern California doing what she loves best - creating.
She looks forward to every day, whether it involves designing home decor items, illustrating a Christmas Santa gift bag, thinking of new toy ideas, or painting an idyllic garden scene.
On the rare occasions she's not in her studio, Cook can be found hiking with her three unruly dogs or waging a futile war of wills with the rabbits, gophers, voles and rattlesnakes ensconced in her backyard.