Our QT Fabrics team extends beyond our employee-owners. We work with creative and dedicated artists to expand our in-house studio talent. We are committed to providing an array of collections suited to many different styles. Collaboration is the QT Fabrics way!
BROWSE DESIGNERS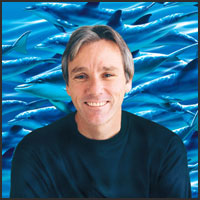 Roy McClure
Born in Tokoroa, New Zealand in 1956. Growing up with parents that were keen divers as he is today, Royce had an early desire in life to be a marine biologist. Collecting tropical fish from age 12 was just the start of Royce's lifelong fascination with the natural and marine world.
Royce briefly dallied with a career in marketing and advertising before becoming a professional artist at the age of 19. Starting his artistic career working in oils, Royce moved to the airbrushing 1974. After moving to Los Angeles where he lived for 13 years, Royce became a commercial illustrator.
As a commercial illustrator Royce focused mainly on technical illustrating but continued to paint marine subjects. Marine images were unusual at the time and it would be many years before this genre took off. Royce says that his time as a commercial illustrator taught him discipline and how to create art specific to a job, along with developing versatility in technique and style as an artist.
It was during his time as a commercial illustrator that Royce started a poster company doing fine art posters. This was the beginnings of Artgame ltd. Artgame was named as a reminder that art is just a game and not to be taken too seriously.
After shifting back to New Zealand with his family, Royce continued to heavily attend licensing shows internationally, which he believes are a great way to keep in touch with your customer base and make new contacts.
COLLECTIONS BY THIS DESIGNER