Our QT Fabrics team extends beyond our employee-owners. We work with creative and dedicated artists to expand our in-house studio talent. We are committed to providing an array of collections suited to many different styles. Collaboration is the QT Fabrics way!
BROWSE DESIGNERS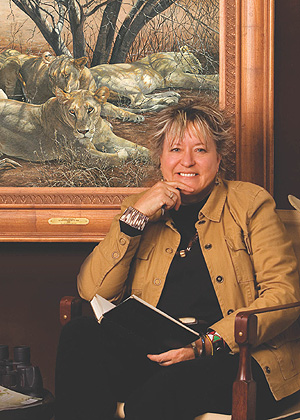 Jan McGuire
aints nature's diversity. Born in the foothills of the Rockies in Colorado she developed an early love of the out of doors. As an inveterate tomboy she spent her days climbing trees, catching snakes and drawing the animals she loved. This love of nature stayed with her when her parents moved to Oklahoma when she was twelve. Recognizing her art ability, her parents encouraged her to pursue her calling by enrolling her in art classes at the local art museum. She continued her studies by majoring in fine art at the University of Tulsa. The curriculum of totally modern/abstract art soon stifled Jan however, and she quit to follow her own path Working in Acrylic paint on fine cotton canvas, and once in a while on smooth masonite panels, Jan creates the fine details, textures and lighting that are the hallmarks of her work. Manipulating the paint with her brushes, sponges, saranwrap and fingers, Jan creates lifelike renditions of fur, feathers, mosses and rocks. The surrounding habitat is always scientifically correct, yet an artistic backdrop to the main subject of the wildlife she is depicting. Jan's goal is for the viewer not to feel as if they are viewing a fine painting, but rather, that they are actually seeing and experiencing the scene itself.
Jan's work has hung in many prestigious venues including the SMITHSONIAN MUSEUM, LONDON'S NATURAL HISTORY MUSEUM, NATIONAL GEOGRAPHIC SOCIETY AND GILCREASE ART MUSEUM. She has also had a person show at the DALLAS MUSEUM OF NATURAL HISTORY and WOOLAROC MUSEUM. Jan has had her paintings included in many BIRDS IN ART exhibits at the Leigh Yawkey Woodson Art Museum as well as most of Society of Animal Artists ART AND THE ANIMAL exhibits.
One of the biggest highlights of her career was when she had a one person show at the then FORBES MAGAZINE Corporate Gallery. Most artists dream of having a show in New York - but for a woman wildlife artist to have one on 5th avenue was unprecedented. The show was entitled: Painting Safari: Jan Martin McGuire's Scenes from the African Wild which hung March 21-May 3, 2008.
Her work is in many private and corporate collections worldwide including
FORBES MAGAZINE
PEREGRINE FUND/WORLD CENTER FOR BIRDS OF PREY
RAYMOND JAMES CORPORATE OFFICES in Florida
HIRAM BLAUBELT ART MUSEUM
LEIGH YAWKEY WOODSON ART MUSEUM
JAMES MUSEUM of WESTERN & WILDLIFE ART
WARREN WILDLIFE GALLERY & MUSEUM
Jan's paintings have appeared in numerous books and magazines including NATIONAL WILDLIFE FEDERATION, U.S. ART MAGAZINE, THE ARTIST'S MAGAZINE, WILDLIFE ART MAGAZINE, AMERICAN ARTIST AND INTERNATIONAL ARTIST MAGAZINE.
COLLECTIONS BY THIS DESIGNER