Our QT Fabrics team extends beyond our employee-owners. We work with creative and dedicated artists to expand our in-house studio talent. We are committed to providing an array of collections suited to many different styles. Collaboration is the QT Fabrics way!
BROWSE DESIGNERS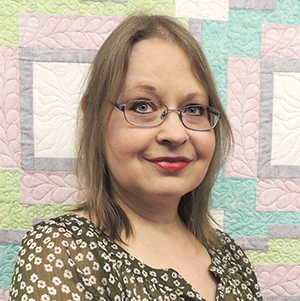 Cindy Sepp
Cindy has been happily working as part of the QT Fabrics "in house" designer team for more than seven years.
Cindy graduated from the Fashion Institute of Technology in 1992 and has been actively working in the Textile/ Surface design industry since 1990. She has had various print design experience ranging from the home furnishing industry, to novelty boxer shorts, to the apparel industry, to silk scarf design.
Originally an artist who worked by hand, she has adapted to computer design, and is very grateful for all the help she can get in this area. Cindy is also grateful to be working in an industry that allows her to be creative. She enjoys being creative in her home life and has used her artistic skills for volunteer work. She has made costumes for a non for profit organization, "Only Make Believe", that does interactive theater with sick children at medical facilities, and has participated in children's events at the American Museum of Natural History.
Cindy resides in Queens, New York.
View Cindy's collections here: Jesus Loves Me, A Child's Prayer, I'll Be a Sunbeam, Psalms
COLLECTIONS BY THIS DESIGNER