Our QT Fabrics team extends beyond our employee-owners. We work with creative and dedicated artists to expand our in-house studio talent. We are committed to providing an array of collections suited to many different styles. Collaboration is the QT Fabrics way!
BROWSE DESIGNERS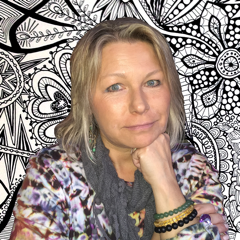 Mary Tanana
Mary's style is best expressed as very intricate pattern work. She loves to sketch in a variety of mediums and is inspired by her international journals and sketchbooks assembled during nearly 30 years of international business travel. She collected a global library of culturally and ethnically important digital images that contribute to her unique personal style.
Mary translates colors, forms and textures from art, architecture, landscapes and nature into her work. She is an avid gardener and collector of orchids who is creatively inspired by flowers, colors and textures. Organic settings have been a huge source of inspiration especially with subtle colors, hues and textures.
Mary constantly challenges herself to express her prolific style in new mediums, Most recently she has been expressing her designs on natural stones, organic wood elements and as hand painted furniture. With so much natural inspiration driving her design style, the possibilities are endless.
Follow Mary on Instagram: https://www.instagram.com/groovity/ and Facebook: https://www.facebook.com/groovitydesigns
COLLECTIONS BY THIS DESIGNER